To export your fill-up data from your Blackberry and open it in a Spreadsheet on your PC follow these steps:

From the main screen of the MileageMeter application go to change to the settings screen.


On the settings screen there are two entries which are relevant for the export
Field separator for export: This determines, how the different fields in the export file are separated. Default setting is 'comma'. If you are from a country, where comma is used as a decimal sign you can choose another separator.

HTTP connection method: The Blackberry OS has two possibilities to access the Internet. It can use the "Mobile Data System" (=MDS; typically used in companies with a Blackberry enterprise server) or it can communicate via TCP. If you want to use TCP you typically first have to configure the Blackberry OS accordingly. Please visit for example

this site

to find out how this is done for your mobile carrier.




On the settings screen select export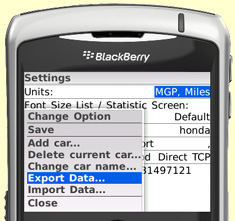 MileageMeter will display a wait screen, while it is exporting the data. If the export was successful the following screen will be displayed. The 8-digit number shown on the screen will be needed when downloading the data to your desktop PC / Mac .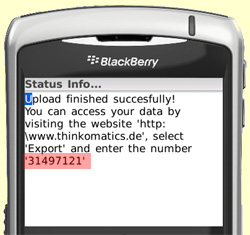 Enter the 8-digit number in the form at the top of this web-page and click on 'Download File'. To find out more about the file format of the exported file please look at the 'Import data from PC to Blackberry' section of this website
(c) thinkOmatics 2008-09

Contact us at support@thinkomatics.de